Πέμπτη 29 Ιουνίου | PostModern JukeBox Orchestra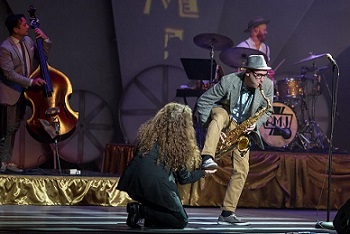 «Today's Hits, Yesterday»
Τι είναι τελικά το PostModern JukeBox;
Μα ένα εκπληκτικό μουσικό όχημα, μία μαγική μουσική χρονομηχανή! Ένα συγκρότημα, όχι με την συνήθη έννοια του όρου, αλλά με DNA επιστημονικής φαντασίας, μία μπάντα που έρχεται από το μέλλον, να μας ταξιδέψει με ασφάλεια στο μουσικό παρελθόν, παίρνοντας μαζί μας στις αποσκευές της, όλα αυτά που αγαπάμε να ακούμε στο σήμερα.
Εκατοντάδες μεγάλες, τεράστιες επιτυχίες της ποπ κυρίως, αλλά και της ροκ σκηνής. Hits των διασημότερων τραγουδιστών, αγαπημένα σάουντρακ δημοφιλών ταινιών και τηλεοπτικών σειρών, ήχοι και νότες οικείες και λατρεμένες. Ακούσματα που παντρεύουν αρμονικά την ποιότητα με την υπερπαραγωγή και τη διασκέδαση, σ' ένα ξέφρενο πάρτι που θυμίζει μεγάλα αμερικάνικα show θρυλικών εποχών. Με εξαιρετικές φωνές και ενορχηστρώσεις, πνευστά, βιολιά, θεατρικές performances, χορό, κλακέτες, κέφι και γέλιο!
Μία μπάντα που θα σας εντυπωσιάσει και θα λατρέψετε, όπως και τα 10 albums που ήδη έχουν κυκλοφορήσει-ειδικά όσοι αρέσκεστε να ταξιδεύετε μουσικά στον χρόνο. Ένα group με το οποίο τρως κόλλημα. Ότι καλύτερο για το πρωινό ξύπνημα, για να περπατάς με τα ακουστικά σου στον δρόμο, για να τους ακούς τρία εικοσιτετράωρα συνέχεια! Κυρίως όμως για να τους χαίρεσαι και να περνάς καλά σε αυτές τις τόσο άρτιες συναυλίες-ντελίριο που οργανώνουν, αφού ο αποκλειστικός τους στόχος είναι η διασκέδαση των θεατών.
Το ελληνικό κοινό θα έχει την ευκαιρία να ζήσει το πιο ενθουσιώδες πάρτι των δεκαετιών και να χορέψει στους τρελούς ρυθμούς και στις μεγάλες διασκευασμένες επιτυχίες των Beyonce, Rihanna, Lady Gaga, JustinTimberlake, Katy Perry, Miley Cyrus, Justin Bieber, Britney Spears, Ariana Grande, Taylor Swift, JasonDerulo, Snoop Dogg, Nicki Minaj, Celine Dion, Whitney Houston , Metallica, Wham, Madonna, Guns N' Roses, Bon Jovi, Backstreet Boys, Aerosmith, Beatles, Radiohead, David Bowie, Red hot Chili Peppers, Adele, George Michael, Metallica, Bruce Springsteen, Bruno Mars, Blink 182, The Killers, John Legend, NSYNC, Nirvana, The Fugees, Gorillaz, Green Day και πολλών ακόμη!
Ένα συγκρότημα στο οποίο μετά την τεράστια επιτυχία των διεθνών περιοδειών του και στις 5 ηπείρους, υποκλίθηκαν το παγκόσμιο κοινό, η διεθνής κριτική, ακόμη και κορυφαία ΜΜΕ όπως η Wall Street Journal, η USA Today, η Ουάσιγκτον Post, η Los Angeles Times»!
Μονή Λαζαριστών
Κολοκοτρώνη 21, Σταυρούπολη
Πέμπτη 29 Ιουνίου
Ώρα έναρξης:
21:30
Πληροφορίες: 2310 589200
Τιμές εισιτηρίων:
30€ (κερκίδες - όρθιοι), 45€ (καθήμενοι - πλατεία)
Προπώληση εισιτηρίων:Καταστήματα ΓΕΡΜΑΝΟΣ
Ηλεκτρονικά:
www.viva.gr
tickethour.com